Every day we are leading busy boring lives, swamped with the same old routine of the weekdays and sleeping off on weekends. We seek a long holiday where we can actually chill without any tension or responsibility but in the time we live in, it's only possible to get away for 3-5 days at the most.
We have gathered a list of getaway places that are just a few hours away from Mumbai but will give a serene, chill environment that one needs to wash the tension away. The list is a mixup of every type of holiday that you might be seeking, be it romantic getaways, an adventurous weekend with your friends or just a relaxing ME time.
Ashiyana Retreat, Goa 
The Ashiyana Retreat is situated amidst the tropical forest of Mandrem Beach in Goa. The retreat is surrounded by the flora and fauna to make you comfortable, relax, and give you a calming vibe. The Ashiyana Retreat offers various spa treatments and therapies from Ayurveda and Panchakarma as well to detox your body and mind from negativity. They have a Yoga teacher training course along with different holistic yoga programmes. This place has Goa's only natural swimming pool, the place offers luxury in all senses from luxurious beach shacks to luxurious suites. There are an array of options between a Shahi suite, a lake house or even a treehouse made up of all wood.
Ahilya By The Sea, Goa
Goa is beyond the cliche's of shacks, seas food and beaches. It's about the lush green surroundings, boho cafes and boutique stores to find your perfect outfit. If you live in the cities near Goa, you must go on a road trip, live out your dreams of Dil Chahta Hai. This Ahilya By the Sea is an elegant property by the sea, in a corner of Dolphin Bay. If you are seeking peace of some alone time, this is the place to go. If you are looking for a private romantic getaway, this is the place. You can take long walks by yourself or with your partner and discuss the way of life or find solace in silence.
Mango Beach House, Alibaug
Alibaug is just 2 hours away from Mumbai and an ideal place for a quick getaway. If you only have the weekend to chill, book a room, drive up to Alibaug or take a ferry and spend your free time in total serenity. For stay, you can choose Mango Beach House it is perfect for a group, it is in walking distance from the beach and it also offers a pool for indoor days. You can try a new favourite restaurant every day for meals and relax amidst nature.
Hilton Shillim Estate Retreat & Spa, Pune
The Hilton Shillim Estate offers wellness and spa packages with an amazing view of the ghats. You can personalise your wellness programmes, according to your requirements which can help you get your groove back. The were environment will help you relax and de-stress. The estate offers a private villa, an outdoor pool, healthy meals (customised accordingly to the client), consultation from wellness experts and yoga and meditation sessions. To de-stress, the retreat offers activities such as trekking, pottery and nature trails. You can always opt for some relaxing spa time where you can get refreshing massages which are aligned with Ayurveda and ancient philosophies.
Elsewhere, Goa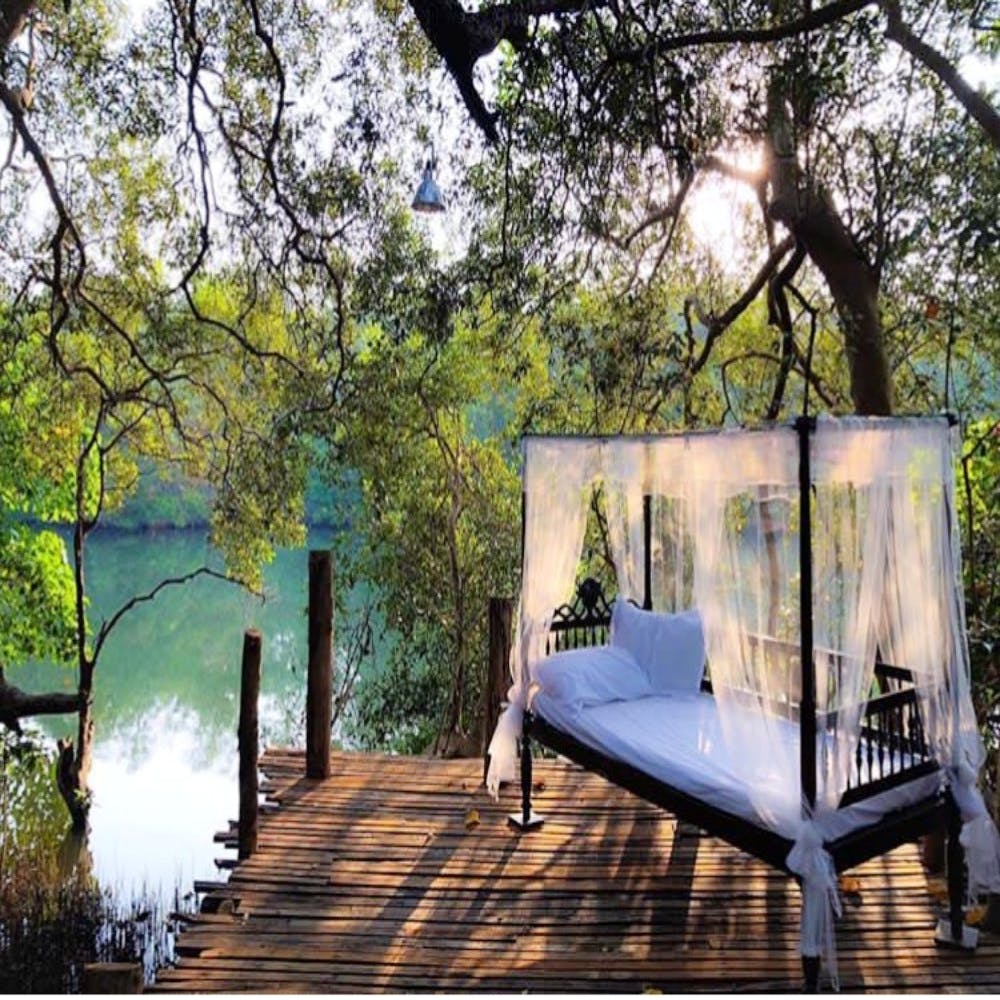 The name Elsewhere is the perfect name for this place, it transports you away from your worries to a relaxing environment. It is located in North Goa and the exact location unknown till you get a booking there. You have two options, between a beach house or the Creek Tents. The beach houses overlook the beach, surrounded by the turtles in the shore and the Otter Creek Tents sit in the beach, facing the creek with outdoor seating and the breathtaking view. You can choose your ideal place to stay and enjoy the beauty they offer.
Atmantan Wellness Centre, Pune
The Atmantan Wellness Centre is located in between the lush green scenes of Mulshi, Pune. This is an ideal place to embrace the organic way of living, to truly relax and embrace the free feeling of a holiday. This wellness centre offers instructors, therapists, healers and practitioners to provide you with the best therapy. They offer aromatherapy, massages and acupressure from traditional Ayurvedic philosophy; but the place has a toga studio, a gym and a pilates and dance studio. They have multiple facilities for a different type of people and it's the best thing about this centre.
Coco Shambala, Sindhudurg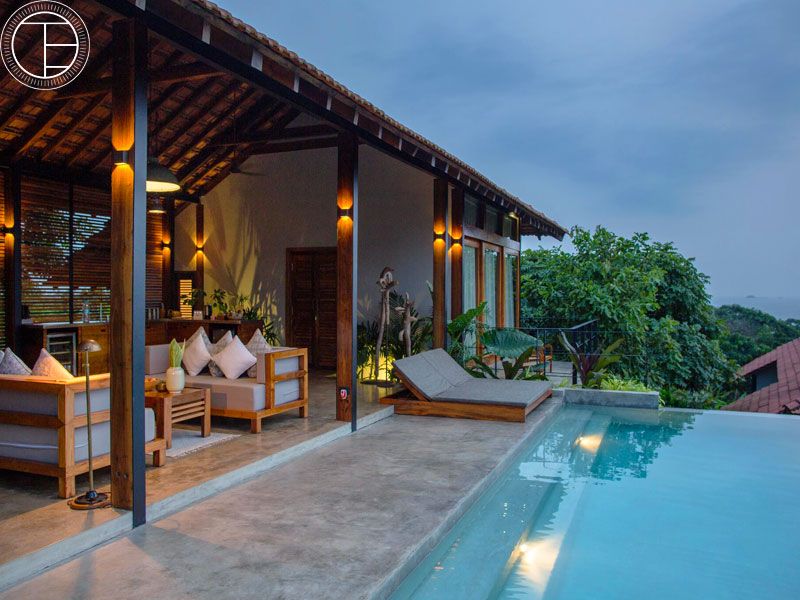 The Coco Shambala has properties in both Goa and Sindhudurg if you have had enough of Goa vacays, the Sindhudurg is the place for you. Sindhudurg is the perfect place for its tropical jungles and views of the Arabian Sea. The Coco Shambala offers extreme luxury with their 4 villa, each with an infinity pool with stunning views and they are the perfect place to enjoy the sunset. The place is surrounded by scenic views os sky, whales, exotic birds and leopards. The place has a Forest Essentials spa where you can enjoy a rejuvenating massage and try out their seasonal menu.
Beyond by Sula, Nashik
At here you can spend your day by eating their organic produce, going for a swim, riding the bicycle to explore the greenery or just drink their amazing wines. In Beyond by Sula, you will be offered a trip to the vineyard where you can taste their vast collection of wines, stomp some grapes and gain some knowledge about the wines and how they are made. If this is how you want to spend your weekend, book at Beyond by Sula and spend your time at Nashik. The property has Sky villas that overlook the lake views with an infinity pool, stocked wine bar with Sula's finest.
The Machan, Lonavala
Lonavala can be your go-to place for last-minute getaways. The Machan's exotic luxury treehouse will be the perfect place to stay to bring out your inner child that always wanted a treehouse in the backyards. The Machan is an eco-resort in Lonavala that offers unique tree houses that are 40 feet above the forest, giving you a spectacular view of woods.
Forest Hills at Tala, Tala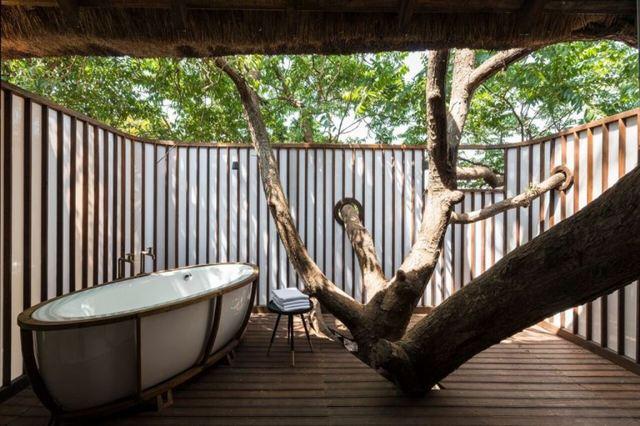 Forest Hills at Tala is the perfect combo of luxury and nature, located at Raigarh this eco-retreat is just a short drive away from Mumbai. This can be the perfect place to spend time with your family as the retreat offers up multiple activities, from swimming pools and spas to archery and rifle shooting. You can follow the natural trail to Kuda caves for an afternoon walk and witness how the organic produce is grown. You have 11 different options to choose from, glasshouses, mud houses or luxury villas that are designed by Krsna Mehta.
Soma Vineyard Resort, Nashik
Soma Vine Village is 17kms away from Nashik and here you can enjoy beautiful sunsets, lake views surrounded by the hills and vineyards. The place has luxurious villas which will help you unwind and relax in the beauty of this paradise. You can grab a glass of Soma wine and enjoy the lake or vineyard scenery. You can always stomp grapes, taste their amazing wine or have their tasty organic food palette.
Aamby Valley City, Pune
The Aamby Valley City is developed by Sahara India and is located between Mumbai and Pune. This place is the spot for relaxing and to work up some adventurous activities, from ziplining to zorbing and trekking, you can choose your sport. The place has a well-equipped gym and spa to calm the nerves or you can take part in horseback riding or jet skiing. For the accommodation, you have the choice between their 4 different types of luxuriously designed villas.
Amanzi Resort, Pavana Dam
The Pavana Dam in the Western Sahyadris is a great place to spend your holiday as the Amanzi Resort, a sanctuary is located in the midst of all the green. Here, you can take part in physical activities, such as trekking, kayaking or paragliding which will pump you with adrenaline. The resort has 10 villas with swiss-style chalets, cocoon-like villas, unique architectural villas which will be something new for you. The place has a spa where you can head for a quick massage after the tiring trek.
Le Meridien, Mahabaleshwar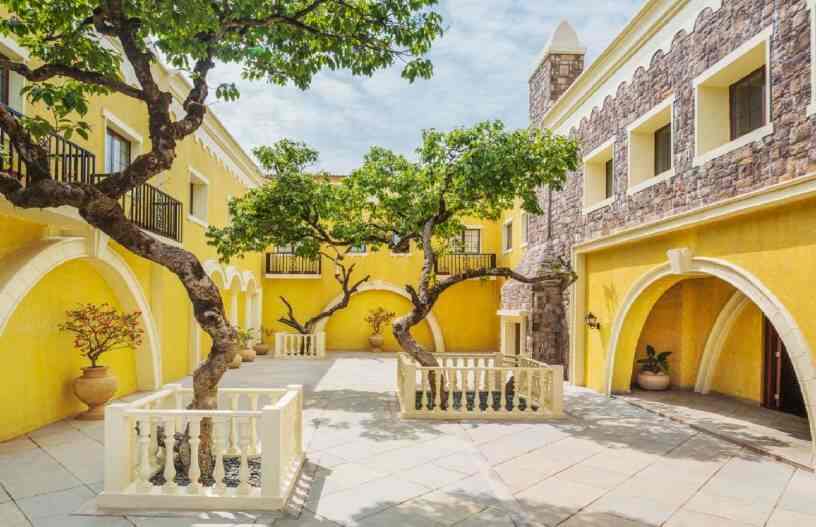 The Le Meridien is located amidst 27-acres of forests in the Western ghats and offers contemporary suites or room to relax with private balconies and an incredible view. The luxurious 5-star hotel offers an outdoor pool, an infinity pool overlooking the valleys, a fitness centre, spa and bar to spend the night away with friends. This is the perfect place for all occasions and is within reach of all tourist attractions of Mahabaleshwar.
Dune Barr Home, Matheran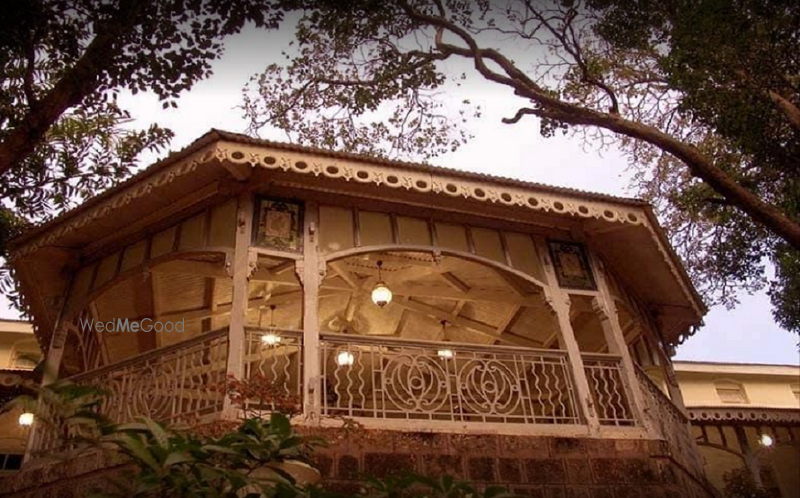 The Dune Barr House was built in the 19th century by Captain Barr, the mansion offers 11 rooms that shouts luxury heritage. They are named after the families of British-Bombay, the Paris and the Bohras. It is a perfect place for a chill holiday with friends and family. They offer proper Indian meals and the European fusion meals, whichever suits your preference. Matheran is a few hours away from Bombay but you can only reach up here by foot, toy trains or horseback and it will add to your adventurous journey.